Lift Kits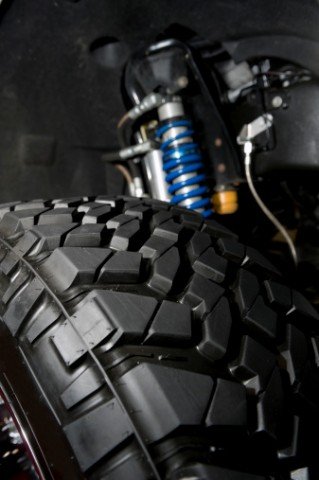 They're everywhere; pickups, SUVs, Jeeps and more; moving down the highway or on the trail. It's quite a presence to see a vehicle atop a towering suspension lift kit with tires as big as a jacuzzi tub.
There are several reasons why you might want to lift your vehicle, as well as quite a bit to know before you choose the system that is right for you. But first, why do you want to lift your ride?
There's two schools of thought: Function, or Style?
We ALL like to have style; we want our vehicle to stand out and make a statement. A lift kit can make more of an impression than any other modification to your ride. Heads always turn when a lifted truck with huge tires comes on the scene! But…looking good is the easy part. That's why you must choose the proper suspension lift kit that considers safety, durability, comfort and reliability just as much as adding that "look".
Then there's performance, for those who wish to tune their rig for off-roading. There's a number of things to address here so you get the correct set-up for the kind of driving you'll be doing most. Your vehicle can be set up for casual driving, or full high speed off roading…the choices really are limitless!
We at Calvert Automotive can tailor your lifted suspension to whatever your need. Call us at (940) 382-8942 and we'll get together to design exactly the right lift system for your vehicle, your budget, and the intended use. You'll be ridin' high in no time!
At Calvert Automotive, your complete automotive care center in Denton, TX we install only quality replacement parts. Give us a call and let us help keep you safely and economically on the road. We serve Denton and the surrounding areas.